Welcome to the PA State Pet Memorial
Imagine a place where you can come and remember your beloved pet. Imagine a place that is surrounded by the beauty of nature. Imagine a place that is uplifting. A place that allows for reflection, happy memories and a lifelong tribute to your companion animal. The only memorial of its kind in the Commonwealth, in a one-of-a-kind place. A place to celebrate and remember family. Welcome to the Pennsylvania State Pet Memorial.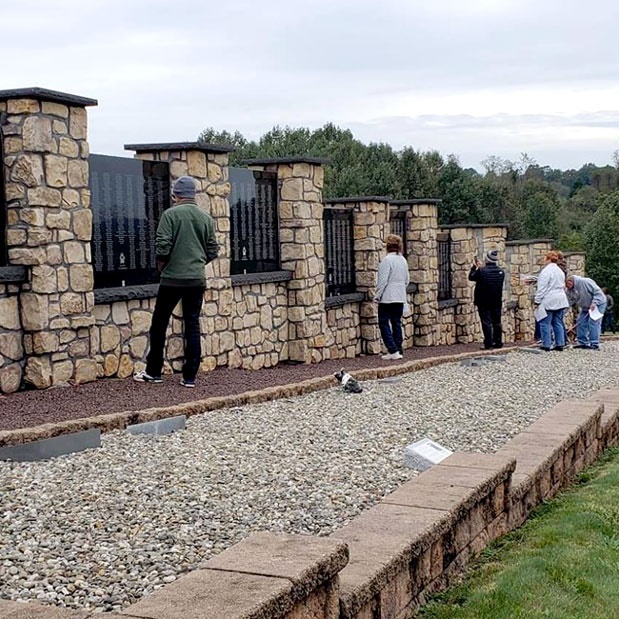 The Wall of Rememberance
In 1996, Governor Tom Ridge joined us to dedicate the Pennsylvania State Pet Memorial. Created to provide a beautiful place to honor and remember the animals that touch our lives, the Memorial is the only statewide memorial in the country.
Since that day more than 20 years ago, close to 24,000 names have been added to the Wall of Remembrance, and we've had the honor of sharing their stories.
Tucked away on the grounds of Golden Lake, here in Mechanicsburg, the 2.5 acre site was chosen for its peaceful and tranquil setting. Surrounded by rolling green fields and trees, the granite memorial wall stands tribute to the bond we share with our pets.
It's quiet here. You can feel the breeze, and the sun on your shoulders. You can run your fingers over the engraved names on the wall, or walk through our Memorial Forest. You can remember and reminisce about the pet that you loved, and the unconditional love you received in return.
We understand that bond; it's why we're here.
We wanted to give folks like us a place to celebrate and remember; we're glad you're here.
Pay tribute to your beloved pet
Forever is a long time. We all wish we could be with the wonderful companion pets that have graced our lives forever.
But, we can remember forever. And we can pay tribute to our pets, running our fingers across their names in a granite memorial that brings families together to remember and celebrate our special animals.
Join fellow, like-minded folks and be part of our Pennsylvania State Pet Memorial. Together, we're celebrating the lives of close to 24,000 pets. Each one special. Each one different. Each one remembered.